HOW TO - guide on how to get a personal reading!
I provide pre-recorded personal video readings of 20 min, 40 min or 60 min. When I made the reading you will get a personal videolink to Youtube with a video you can watch as many times as you like!

You have to e-mail me to get the CURRENT PRICES and SCHEDULE. I am only one person, so sometimes I will be booked far ahead and sometimes I will be able to performe your reading rather quickly.

I do the readings in the order they are payed, so I will scheduel you into my calender and you will have your reading when that date shows up.
I do shorter 20 min Emergancy readings that i provide with in 24 hours at my free time.

I need a question and/or information about the situation you are wondering about to make the reading. And Astrological signs and or birthdays for all people involved in that situation including you.

The information you give me surrounding the question makes it easier for me to pinpoint the answer that the cards is giving, and that you need. You can ask one question for every 10 minute of your reading and I will answer in depths. You can also ask for a general reading without questions.

The readings I do is always accurate, but the outcome is depending on your own actions and reactions, and also that the information you have been providing to me is correct. You pay for the time spent making the reading and not the outcome.

Advice is the game of tarot. It gives advice, never commands. It is up to you how you process the information. And tarot helps you to deal with your siuation in the best way possible.

If you want to order a personal reading with me you need to send me a e-mail request and you will get back a answer with prices and avaliability!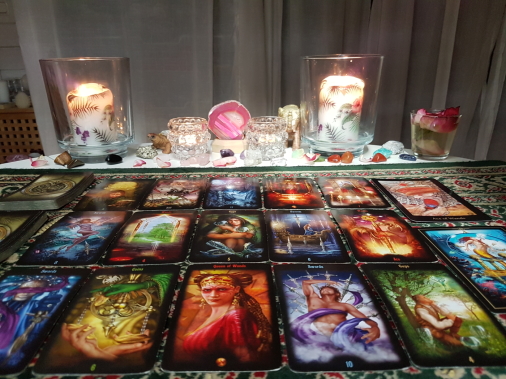 I deliever to the whole Globe as long as you can make a PayPal payment and have internet connection!

You can ask questions about your reading afterwards to clearify and I answer them through e-mail. Remember that you pay for my time spent making the your reading and not the outcome of the reading! And please notice any timediffrences between us (My Time zone is GMT+1)!

Pregnancy, Health & Legal mathers!
By law I have to tell you that my tarot readings are for enterteinment purpose only and if you need to ask about pregnancy helth or legal mathers I advice you to consult and trained proffessionall in their field.