Pendel / Pendulum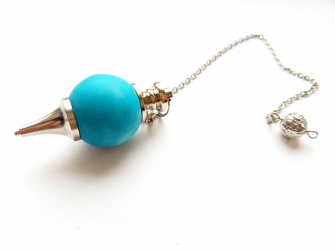 List Price:
139 kr
79 kr
Inc. 25% Tax
SKU:
P1710490
You Save:
60 kr (43%)
Type:
Turquoise
Quantity:
In Stock
Pendulums in pearl and turquoise 45 mm. Stones perfect for searching answers to questions of love, spirituality and healing. Chain with chain with sphere.

Pearls and pearls symbolize purity, honesty and innocence. They are stars born out of the ocean's depths. It brings spiritual guidance, sincerity and truth to situations that need it. The Pearl gives us hope that spiritual wounds can heal and give inner wisdom.

Turquoise was popular for its healing properties in ancient Egypt. It is said to sacrifice itself and crack to heal its owner, and it can also change color according to the wearer's health and mood. It inspires courage and is good for physical and spiritual journeys. It attracts new acquaintances and gives luck and happiness in love. It can also help in the case of tension and headaches.

Pendlar i Turkos och pärlemor 45 mm. Stenar perfekt för att söka svaren på frågor om kärlek, spiritualitet och helande. Kedja med kula.

Pärlemor och Pärlor symboliserar renhet, ärlighet och oskuldsfullhet. De är stjärnor födda ur oceanens djup. Den för med sig andlig vägledning, uppriktighet och sanning till situationer som behöver det. Pärlan ger oss hopp att själsliga sår kan läkas och ge inre visdom.

Turkos var populär för sina helande egenskaper i det gamla Egypten. Den sägs kunna offra sig själv och spricka för att läka sin ägare, och den kan också byta färg efter bärarens hälsa och humör. Den inger mod och är bra för fysiska och andliga resor. Den drar till sig nya bekantskaper och ger tur och lycka i kärlek. Den kan också hjälpa vid anspänning och huvudvärk.