Pendel / Pendulum Turquoise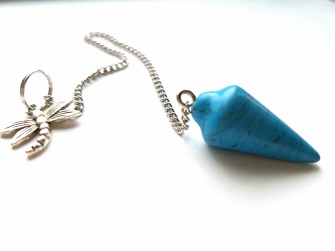 List Price:
87 kr
59 kr
Inc. 25% Tax
SKU:
P1725565
You Save:
28 kr (32%)
Type:
With Dragonfly
Out of Stock
Pendulum in turquoise 35 mm. Stones perfect for searching answers to questions of love, spirituality and healing. Chain with Dragonfly - which is a totem for the magic of life.

Turquoise was popular for its healing properties in ancient Egypt. It is said to sacrifice itself and crack to heal its owner, and it can also change color according to the wearer's health and mood. It inspires courage and is good for physical and spiritual journeys. It attracts new acquaintances and gives luck and happiness in love. It can also help in the case of tension and headaches.

Pendel i Turkos 35 mm. Sten perfekt för att söka svaren på frågor om kärlek, spiritualitet och helande. Kedja med dagslända, som är ett totemdjur för livets magi.

Turkos var populär för sina helande egenskaper i det gamla Egypten. Den sägs kunna offra sig själv och spricka för att läka sin ägare, och den kan också byta färg efter bärarens hälsa och humör. Den inger mod och är bra för fysiska och andliga resor. Den drar till sig nya bekantskaper och ger tur och lycka i kärlek. Den kan också hjälpa vid anspänning och huvudvärk.