Pendel Blue Lace Agat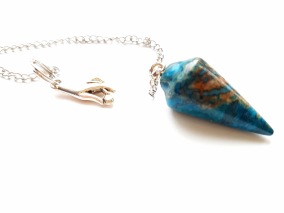 List Price:
87 kr
59 kr
Inc. 25% Tax
SKU:
P1725577
You Save:
28 kr (32%)
Type:
Hand with sphere
Out of Stock
Pendulum in Blue Lace Agat 35 mm. Stones perfect for searching answers to questions of love, spirituality and healing. Chain with hand holding a sphere, a symbol for higher knowing.

Blue Lace Agate has a soft, soothing elegance; like sky-blue waters released from winter's grasp. Its graceful, circular design has a stimulating, positive effect on emotions and attitude. It is not a stone of protection, but rather of encouragement and support. Its circular flowing energy calms, uplifts and elevates.

Pendel i Blue Lace Agat 35 mm. Sten som är perfekt för att söka svaren på frågor om kärlek, spiritualitet och helande. Kedja med hand som håller i en sfär, en symbol för högre vetande.

Blue Lace Agate har en mjuk, lugnande elegans; som himmel-blått vatten frigörs från vinterns grepp. Dess graciösa, cirkulär design har en stimulerande, positiv effekt på ens känslor och attityd. Det är inte en sten för skydd som andra agater, utan snarare för uppmuntran och stöd. Dess cirkulära flödande energi lugnar, lyfter upp och höjer.