Pendel Pink & Green Crazy Lace Agat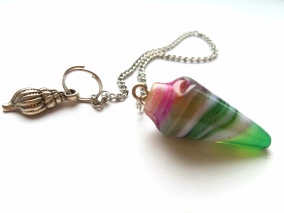 List Price:
87 kr
59 kr
Inc. 25% Tax
SKU:
P1725647
You Save:
28 kr (32%)
Type:
Sea-Shell
Out of Stock
Pendulum in Pink & Green Lace Agat 35 mm. Stones perfect for searching answers to questions of love, spirituality and healing. Chain with a sea shell, a symbol for tresures, protection and secrets.

Crazy Lace Agate is called the Laughter Stone, or "Happy Lace." It is associated with sunny Mexican fiestas and dancing and brings joy to those who wear it. It is not a stone of protection, but of support and encouragement, elevating thoughts and promoting optimism. Its graceful design, in random lacy patterns, creates a circular flow of energy, stimulating for the mind and attitude.

Pendel i Rosa & Grön Agat 35 mm. Sten som är perfekt för att söka svaren på frågor om kärlek, spiritualitet och helande. Kedja med havs snäcka, en symbol för skatter, skydd och hemligheter.

Crazy Lace agat kallas skratt sten, eller "Happy Lace." Det är förknippat med soliga mexikanska festligheter och dans och ger glädje till dem som bär den. Det är inte en sten av skydd som andra agater, utan av stöd och uppmuntran, upplyftande tankar och främja optimism. Dess graciösa design, i slumpmässiga Lacy mönster, skapar ett cirkulärt flöde av energi, stimulerande för sinnet och attityd.