Four readings package 4 * 40 minute Tarot Reading, 2 situations/4 question - Pre-Recorded Video Readings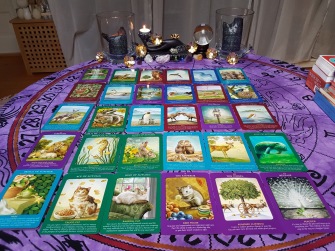 Price:
6500 kr
Inc. 25% Tax
SKU:
P2061483
Type:
4 Session reading in English or Swedish
Quantity:
In Stock
I provide 4 pre-recorded personal video readings of 40 min over a period of 4 months, 8 months or 1 year. Sometimes you can't choose the period, depending on my other bookings I might only have one or two avaliable options. You can ask one question for every 10 minutes of your reading and I will answer in depths. You can also ask for a general reading without questions.
When I made the reading, I will e-mail you a video link to YouTube with a video you can watch as many times as you like! It is a personal link to the video, so no one can see it accept for you, and the people you choose to share the address with.
I am only one person, so sometimes I will be booked far ahead and sometimes I will be able to perform your reading rather quickly. I do the normal readings in the order they are payed, so I put you on a waiting list, and you will have your first reading within 4-12 weeks depending on the current order stock. When you have placed your order, I will be able to say what date it will be performed.
I need a question and/or information about the situation you are wondering about to make the reading. And Astrological signs and or birthdays for all people involved in that situation including you. Write the information in the
Message to Seller
section at you order, or use the question form at the page:
Personal Tarot Reading
. If I don't get any information with the order, I will ask you for it on the e-mail address you provide me with.
The information you give me surrounding the question makes it easier for me to pinpoint the answer that the cards are giving, and that you need.
The cards I get is always accurate, but the outcome is depending on your own actions and reactions, and that the information you have been providing to me is correct. You pay for the time spent making the reading and not the outcome.
Advice is the game of tarot. It gives advice, never commands. It is up to you how you process the information. And tarot helps you to deal with your situation in the best way possible.
Payment
Through PayPal you choose "SEK" when you make your payment. If you feel afraid to pay in my currency, you can e-mail me and ask for the prices in your currency. The readings is better priced in SEK however since I avoid currency exchanges costs.
~ A 4 times 40 minute, 2 situations/4 question - Pre-Recorded Video Reading package deal for
6625 SEK
(including PayPal fee)
.

Terms of Delivery
I deliver to the whole Globe if you have internet connection! You can ask questions about your reading afterwards to clarify and I answer them through e-mail. Remember that you pay for my time spent making your reading and not the outcome of the reading! And please notice any time differences between us (My Time zone is GMT+1. Summertime GMT+2)!
Pregnancy, Health & Legal mathers!
By law I have to tell you that my tarot readings are for entertainment purpose only and if you need to ask about pregnancy health or legal Mathers I advise you to consult and trained professional in their field.